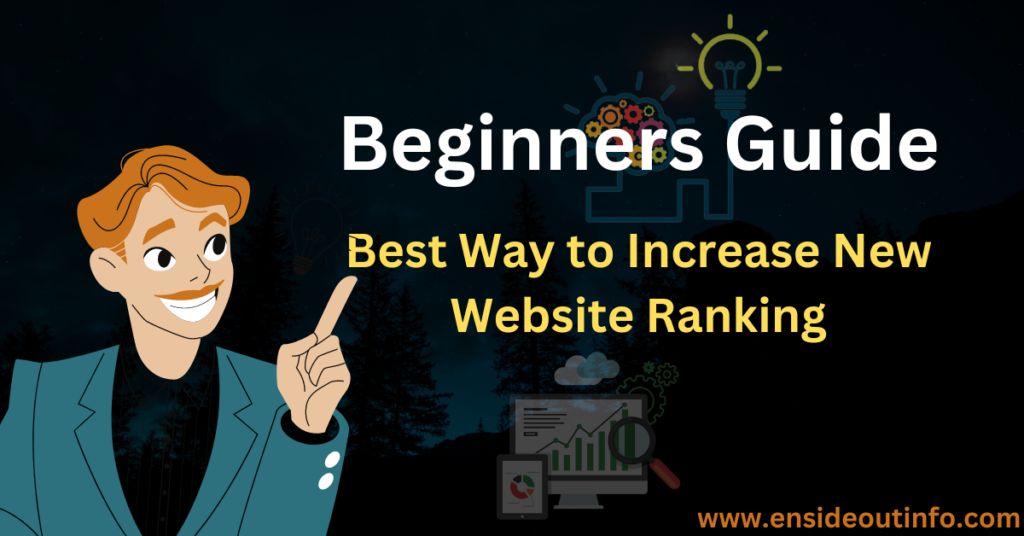 Hello everyone, in this blog post we will discuss the best way to Increase New Website Ranking in 2023 on Google Search Engine, this post is especially for beginners. Here, also we will discuss several methods to create High-Quality Backlinks for your website or blog.
When we all create a New Website, the biggest challenge we have is how we'll be able to rank our Website on Google, there can be no specific answer to this question.
How to create telegram account (with Picture) without phone number 
But yes there are some tips that if you use it, your blog will definitely rank on Google and you'll also get good traffic, so if you're a New Blogger, you can read this post on how to increase your website ranking on google, a little carefully.
Best Way to Increase New Website Ranking in 2023
Select Top-Level Domain
As we all know Domain is the main root of any website because without a domain you can't create any website or blog. So before creating a website you always need to think before selecting for the domain.
Domain Name is very important to create a Website or Blog, but in starting people often prefer to take Free Domain or a very cheap Domain, because at that moment they feel that they will take a good domain after they first learn.
Because of this, all the hard work done on whatever Blog he makes is wasted. So you select a good Domain Name from any website.
Today on Godaddy and BigRock you easily get a Custom Domain from Rs.300 to Rs.500, now if you want to know what you need to keep in mind before taking Best Domain.
Note: At some times you can get a very cheap domain for around Rs.100 but after one year at the time of renewal you will have to more money to renew your domain. 
So before buying any cheap price domain always remember this point. This above point always helps you before buying any cheap domain that you should not buy these types of cheap domains.
Choose the Best Blog Niche Ideas
Do you know that you will find Successful in Blogging only if you target the Best Blog Niche? Whenever you think of starting a new Blog, it's a great thing to have the right Blog Idea if you don't choose the right Blog Niche, it can be a little difficult for you to have success.
Best Blog Niche Ideas But don't worry this blog post will help you for finding or choose Best Blog Niche Idea.
If you choose a keyword with high competition, you will never be able to rank your website on Google in Higher positions why you know why all the big Bloggers rank their blog on the Keyword with High Competition, you always have to keep in your mind that you have to choose the Blog that has a Low Competition and high search Volume.
Blog Niche is important to create a blog, but if you want to rank your blog early on the Internet, it's important that your Topic is such that you have more searches and less competition, making your Blog Search Engine quickly rank your website.
How to find low competition Blog Niche Ideas in 2023
Design Your Blog
Design to rank the Blog on Search Engine is also a very important factor that requires some features in your Blog, such as Menu, Important Pages, Social Media Links, and Mobile Friendly Template, so you must take note of all these things whenever you create a blog.
Today Search Engine gives priority to blogs that are Mobile Friendly, so you must check whether your Template is Mobile-Friendly before you apply the template to your blog.
Submit your Blog on Webmaster
Once you've implemented the above things in your Blog, you must add your Blog to the Webmaster so that Search Engines can get your Blog Information and show off your blog in Search results.
In the same way, you must put the website or blog into Webmaster, you must also set up Sitemap, and check from time to time whether you're indexing what you post updates on your Blog.
How do you show your blog website in search engines? How would get traffic on our blog?
Can you show your website for free in the Google search engine? The question comes to everyone's mind, how do you bring the blog to Google search? You can show with Google's help. 
Once again, Google Webmaster Tools is also known as Google search console, now renamed as Google Webmaster Tools.
Suppose, if you search for any keyword in Google, there are a lot of resumes, which means that everyone has submitted to the website Google search console, which everyone knows from the name of the sitemap, if you have not yet submitted your own website sitemap to Google search console, please submit it quickly. , and verify.
Google Search Console:-

First you need to add your website to the Google search console, if you don't submit to your website Google search console, you won't see Traffic at all on your website.
So whatever website you create, needs to be submitted to the Google search console, Google search console is like a map, all traffic we get on our website from everywhere in the world is known to Google, whichever traffic we have received from it.
When we create a website, the Google search engine doesn't know if we've created a website, so we won't be able to see Traffic on our website, if you submit your website to the Google search engine, you'll see traffic on your website.
Write SEO Friendly Post
A Blog Post Search Engine ranks only if it's well done SEO i.e. Search Engine Optimization, in Short, you'll need to write your Article in a way that repeats your Keyword several times and is written in the right place.
This article is a way to easily rank your article in Google, so you have to write an article that likes the Google Search Engine as well as the people who come to your blog.
However, there is no definition of it as the search engine considers an article as an SEO Friendly article, and the criteria used for it are not used by the search engine, so it is confidential.
In today's day, Google ranks the same article in search that writes on a topic with a lot of details now it does not mean that you just write anything to increase the length of the article.
By doing so, those who read the article will not like it and it will increase your Bounce Rate and Google will be able to get that it is not quality content and will never rank.
So always write articles for your user because this is the only way to make you quality content, so especially the new blogger should consider it.
Create High-Quality Backlinks
What are backlinks, Backlink means that your website post is a link to someone else's website, it's called Backlink, guys you've created a very good website, and you've written Unique Articles, yet traffic isn't coming to your website, you'll need to create high-quality backlinks on a popular website.
To create a backlink, you'll need to open any popular website, and you'll need to make a good comment if the owner of that website saw your comment and your comment was good, it would make your comment approved, and from that popular website you'll get 1 backlink, and you'll also get a lot of traffic from that website to your blogger website.
From any popular website that you want, the other website helps you to bring traffic to your website, which your post and website run in Google, and your website works well.
You're writing a post there, you'll also have a number of world bolds at the time you write a post where you link the link to your own website's second post in your own articles, if any visitor clicks on the link, it redirects to the second post on your website, it's called Internal links. 
If your website has High-Quality backlinks then Google will rank your website easily in higher positions.
1. Guest Posting
This is the best and most promising way to create High-Quality Backlinks. In today's time, most people use this method to generate quality backlinks. 
A guest post if you post a guest on a good website or blog, you get the best high-quality backlink from it and it makes you get very good traffic on the website blog, so I have put it first because you can't get a good backlink from the guest post.
2. Blog Commenting
When you go for commenting on any blog post and write an appreciative and informative comment and publish them, then you can get only No-Follow backlink from that website. In rare cases, you can get a do-follow backlink.
How to Enable and Write Search Description for Blogger
Get No-follow Backlink from in General Comment. This doesn't help Site Ranking, but Link Juice Create from the Blog. Blog Comment is beneficial for the Future.
Create backlinks to start commenting by using the top commentator plugin on Do-follow Blogs and Do follow Forum. The backlinks from the Comment are not very good, but you may have heard that it is just like something that is better than nothing.
3.

Facebook Page
If you create your Facebook page and submit the URL of your website here, here you get a great backlink and from here you can also share your post which increases your visitor.
4. Pinterest
If you create your account on Pinterest and put the Url of your website on it, you get a high-quality backlink that increases the traffic of your blog website and that backlink increases website ranking on Google.