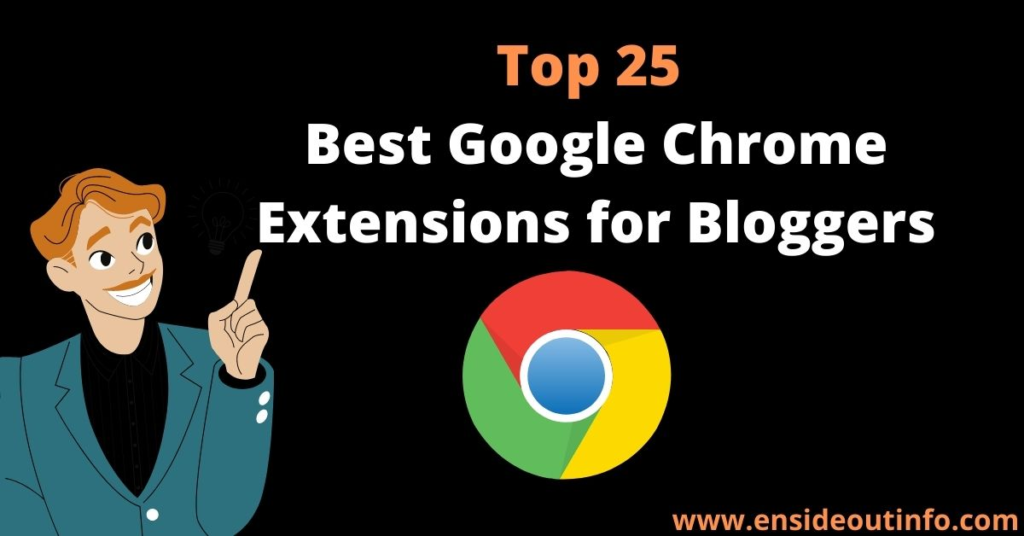 We're going to tell you the Best Top 25 Useful Chrome Extensions for Bloggers in this post. If you are also a blogger and want to know what is Google Chrome Extensions or how to use Google Chrome extensions and which of them are the best Google Chrome extensions for bloggers, read this post in full.
In this post, I have found you the Best Google Chrome Extensions for bloggers. If you are a blogger and use mobile, desktop, or laptop, you can easily use these extensions by applying it to your browser. 
It will help you in many ways like Keyword research, checking of DA PA, traffic etc.
Blog Niche Ideas for 2023 to make money online
What are Chrome Extensions?
Bloggers have a lot of work like writing content, SEO, publishing content, and finally promoting their blog posts online.
It becomes very difficult to do all this together alone and they need some tools to help them to do these things quickly so that they can save time.
So Google has now created several Chrome extensions to make blogger's life a little easier.
You can install Google Chrome Extensions on your browser with just one click. Chrome Extensions is very important for bloggers because Google Chrome is a very popular and important browser for all.
You don't necessarily use it in the Chrome browser. You can also use them on Mozilla, Firefox, Microsoft Edge, etc.
What would you do if you disabled copying and right-clicked on many sites?, what would you do if you wanted to view a site or Web page DA or PA quickly?
It's the answer to all the difficulties "Google Chrome Extensions".
We will learn about some Top 25 Best Google Chrome Useful Extensions for Bloggers in this post today that will help you in blogging and save you time.
So let's know which are the Top 25 Google Chrome Extensions for bloggers.
How To Install Chrome Extension in Computer?
It is very easy to Install any Extension on the Computer can be installed from Google Chrome Store.
You can Install an Extension in seconds. If you don't know about it, you can follow and Extension Install our Steps, so let's know about it.
The first thing you need to do is go to the Chrome Web Store to Add or Install the Chrome Extension.
Follow our Steps if you want to go to Chrome Web Store from the Chrome Browser of your computer:
Step 1: First Open Chrome Browser on your computer.
Step 2: Now you will see three Dots on the Right Side above Click them.
Step 3: Then you will see the Option of the More Tools below and tag it and Click on the Option of the Extensions.
Step 4: Now you will have a Page Open in front of you Click on the Get More Extensions at the bottom.
Step 5: You will have another Page Open in front of you in which you will see a lot of Extensions you can Install anything here Extensions, Themes, Games, and Apps.
Step 6: You will see Search Box on the Left Side above you can Search any Apps by naming them there.
Step 7: Search you will have a lot of Extension Show in front of you have to Click on Add To Chrome in front of your own Extension there.
Step 8: Click on Add To Chrome Button will have a Pop Up Window Open in front of you here Permission will be asked to Extension Add you here. You just have to Click on Add Extension here.
As soon as you click on the Add Extension, your Extension will Add in your Chrome Browser, which you will see Icon on the Right Side above your Chrome.
So this way you can do many things easily by Adding Chrome Browser Extension.
How to Install Chrome Extensions on Mobile?
See if you're thinking that you use Chrome Extension Chrome Browser your mobile phone, you're thinking wrong.
The Chrome Browser on a Smartphone doesn't support extensions.
If you want to use chrome extensions on your mobile, you'll have to install YANDEX BROWSER from the Play Store and can easily download YANDEX BROWSER from the Play Store.
YANDEX BROWSER Supports chrome extensions and anyone can use Google Chrome extension in YANDEX Browser.
Best Top 25 Useful Google Chrome Extensions for Bloggers
Here we have mentioned about best Google Chrome extensions for bloggers that are going to be of great use to you.
You may already know about some of them and the rest is going to be very beneficial for you. Here I am going to share with you the best Chrome extension ideas.
So without wasting time and come straight to the point and tell you, what is the Best Top 25 Useful Google Chrome Extensions for Bloggers.
1. Grammarly Extension
As the name suggests, Grammarly is a tool that allows you to eliminate your writing errors.
If you are a blogger and write your post on blogger.com or WordPress.com, not on MS Word. So, it can be very beneficial for Bloggers while writing blog posts.
Grammarly is a free Chrome browser extension that helps Blogger to check spelling, grammar, and punctuation.
Grammarly Chrome Extension connects very easily to other online platforms such as WordPress, Facebook, Twitter, Gmail, Instagram, LinkedIn, and Google Docs. And you can also use Grammarly with Microsoft Word.
As soon as you write some content, Grammarly gives you Corrections and Suggestions. You can Implement Suggested corrections if you want.
How to Earn Money from Home for Students
Grammarly Chrome Extension is very beneficial for those who are not native speakers of English with the help of which they can write in good articles in English. Both American and British English Spellings are found in Grammerly.
Both the free and the paid Grammarly come versions. The free version also gets you a lot of features.
2. MozBar Extension
MozBar from Moz is an all-in-one SEO toolbar that is useful for knowing keyword research, SEO, DA or PA, and Scam Score.
In Mozbar, you can also analyze search results for backlinks and Google. It works like Extension SEO quake we will tell you further but it has more features.
You can also find out whether a link is Dofollow or Nofollow by Mozbar. And you can get extended information about any post you can take through this Chrome Extension.
With this Extension, you will also be able to export Search Engine Results Page (SERP) analysis to a CSV file.
MozBar is also very easy to use and is available both in free and paid ways like Grammarly.
So, in all ways, it is a very Useful Google Chrome Extension for bloggers and SEO Experts.
3. Similarweb Extension
SimilarWeb Chrome Extension lets you view any Website Traffic and Key Metrics on the Internet.
With the help of this extension, you will also be able to see Engagement Rate, Traffic, Rankings, Keyword Rankings, and Traffic Sources easily.
It works like SEO for us. You are happy to know that it is available for free and you can easily use it in your Chrome Browser.
You can easily install it with a click in your browser. This way you will be able to easily keep an eye on your competitor or Competitor as to what he is doing and where his traffic is coming from.
4. SEO Quake Extension
SEO Quake is also useful for getting information about any website on the Internet like Similar Web. But it also has special features like other extensions.
We can easily learn about SEO Audit, Page Rank, Alexa rankings, and a lot of SEO metrics, through this Chrome Extension.
It is a tool of SEMrush. If you have a SEMrush account, you can use a lot of features by connecting it.
You can export the SERP results that you have in a CSV file format.
You can guess Keyword difficulty.
You can see the SEO audit of any webpage.
You can create an Internal and External links report.
Keyword density can detect.
URL / Domains can be compared very easily.
How to check keyword density in a blog post
The SEO Quake plugin is Compatible with many browser extensions and is constantly updated.
With all these features, you can say that it is Best Useful Chrome Extension for Bloggers. This is the Best Extension for Keyword Research.
5. Ahref Extension
Ahref SEO Toolbar and SEO Quake are different, but both of them have the same work, so you can use either or both of them.
This allows you to check the On-Page SEO of any web page. And this Extension also gives you the option to know from the SEO Matrix browser.
with the help of the Ahrefs extension, you can easily know the On-Page SEO Report, Broken Link, Redirect track, etc. of any Webpage.
If you have an Ahrefs paid version, you can easily find information about Domain Rating (DR), URL Rating, Estimated Organic Search Traffic, number of ranking keywords number of referring domains, and number of backlinks.
Using all these features you can take your site to a new height. So Ahref Top is on the list of 25 Google Chrome useful Extensions for bloggers.
6. Buffer Extension
With the help of Buffer Chrome Extension, you can handle more than one social media platform such as Facebook, Twitter, and LinkedIn together.
It also allows you to schedule your posts so that you don't have to go to all social media platforms and share your posts.
Buffer Chrome Extension provides you with both free and paid. Free Account you can connect any 3 social media accounts and schedule up to 10 posts simultaneously.
This way you can save your time and invest it in increasing the traffic and SEO of your website.
It is a very good extension for you. Buffer Chrome Extension, Social Media Managers and Bloggers with all the features.
7. ColorZilla Extension
With the help of ColorZilla Chrome Extension, you can read, adjust and take color to another program.
This Chrome Extension helps you to find out HTML code of any color. If you have a little knowledge of web development or coding, you will know that every color has an HTML code.
As we write Black Color as #000000 and White Color as #FFFFFF.
If you like the color of a site and want to use the same color on your site or on one of your images, you can use HTML code to find out the color with the help of this Extension, and change the theme of your website.
How To Use Keywords In Your Blog Post
It is very useful for web developers and graphic designers besides ColorZilla Extension for bloggers. With this, you get an Advanced Color Picker and Gradient Generator feature.
ColorZilla is a completely free Google Chrome Extension.
8. Pocket Extension
Pocket Chrome Extension gives you the option to save those things in Pocket. It is a great tool that will help you in many ways.
We visit any blog, and we like a post, but due to lack of time, we can't read that post in full.
In such a situation, Pocket Chrome Extension is available for you absolutely free of cost. This allows you to save any post by clicking on Chrome Extensions.
Not only that, but you can also install its app on your Android Phone, then you can't even read and listen to the saved file.
Pocket is a completely Free Google Chrome Extension and you can also upgrade to Premium Version if you need more features.
You can collect all the content for your blog post in one place. Which will save your time.
9. Enable Copy Extension
If you write an article, this Extension can prove to be quite important for you.
You may have noticed that it is disabled to copy or right-click a site so you cannot copy text.
Best way to generate free quality Backlinks for a website
Whether it's to Word Count or to know Plagiarism. This Google Chrome Extension is absolutely free. With the help of this you can enable or disable copy.
Enable Copy can help you a lot in writing blog posts. This allows you to quickly create a blog posts.
10. Awesome Screenshot Extension
Awesome Screenshot Chrome Extension can be installed from Chrome Web Store. I have the highest-rated screen capture and screen recorder with more than 2 million users.
Now you must be wondering why Awesome Screenshot is needed if you can take screenshots from Window Key + PRTSC shortcuts in the computer and the snip &sketch tool in windows.
This extension also gives you features like full-page screen capture and screen recorder. In Awesome Screenshot, you can edit it by taking a screenshot.
You can easily crop images, write text, mark arrows, and Scroll.
Awesome Screenshot extension also gives you the option to take selected areas, the visible part, and full-page screenshots. You can take screenshots and screen video recording it.
11. Evernote Web Clipper Extension
Evernote Web Clipper Chrome Extension helps you save Evernote Account interesting things you get on Website. You can then easily access useful data from it on any device.
Evernote Web Clipper you can Capture Full Page Articles, Selected Text, Images, and any email you find Useful on anyone's Web page if you want to read it later.
Whether you're a blogger or a content writer, it's the best Google Chrome Extension For Bloggers to Improvement their Productivity.
12. WhatRuns Extension
WhatRuns's a very good Google Chrome Extension. It can Scan any Site and tell what Web Server it is using, and what Programming Language it is using.
Also, you can Detect a lot of things like Site Blogger or WordPress.
If the site is on WordPress, what Plugins are used, what Themes are used, and what Font is used? You can find out a lot of things from its Help using it.
It can detect Technologies used by Extension sites.
13. Google Input Tools Extension
It will be very useful for you if you want to write Hindi in any Browser. You can Type in Hindi with this tool if you don't know Hindi Typing.
This allows you to turn any English font into a Hindi. For example, if you turn on this Extension and write it Google in English, it will write Google in Hindi.
You can also Direct Hindi Typing it.
14. Word Count Plus Extension
Sometimes we have to find out how big an Article our Competitor has written. You can use Word Count Plus for this.
This allows you to detect Word Count by selecting text and Right Click on Word Count Plus.
If you use Blogger for Blogging, you don't have the option to detect Word Count in it, you can use this extension in this case.
15. Email Hunter Extension
For any blogger or internet marketer, it is important to contact various website owners and email is the means to contact them.
However, sometimes it becomes difficult to find the email address of different websites and this is where the email hunter helps you.
It helps you find the emails of authors of various websites very easily. When you visit various websites, this tool works in the background and removes email addresses and saves them for further use. You can avoid all hassles in finding email addresses.
Email Hunter will find you the email address through which you can contact webmasters for various purposes.
16. Linkminer Extension
Linkminer is one of the best Chrome extensions used to find the link structure of the website or the blog you have. It also helps you find broken links and all links without any destination.
This tool will help bloggers find links that are broken or defective and will replace them with a valid page to improve the search engine ranking of the entire blog.
Link Minor Extension is useful in interlinking blogs and is also useful in getting a good search engine ranking on search engines like Google and Yahoo.
Best way to Increase New Website Ranking in 2021
17. Font Finder Extension
Your competitor is also interested in knowing which font you are competitor uses when you're making your landing page more amazing, in which case the font finder is useful.
This extension helps you find the font of any webpage that you are in.
So, to find any font, you need to click on the font finder icon on your Chrome browser and when you rotate and click on any word you will find the text font name with more details such as font weight, font size and much more.
18. LastPass Chrome Extension
If you are a busy blogger who always forgets your password, it's important for you.
LastPass is the tool that has the ability to manage all your passwords and log in easily to your account.
This extension helps you a lot if you are used to forgetting passwords all the time, basically when you sign up for a website this tool remembers the unique password you entered on that website.
You can also add your credit or debit card to this tool to make your transactions as fast as you want.
As a blogger, if you want to remember all passwords, simply use this tool to save all the passwords you have in LastPass Password Manager.
19. Read Aloud Extension
This extension helps you if you are a lazy blogger who writes a lot of content but doesn't want to read that content or you get an epic guide, but you don't want to read because it's too long.
Read Aloud is a free text-to-speech chrome extension that allows you to convert all types of text content into audio forms.
This tool helps you read that content in an audio form if you want to read any long content without scrolling.
If you are a content writer who writes a lot of content, this extension saves a ton of the time that you used to read the content.
20. Google Translate Extension
You must be using Google Translate and I don't Important to give you information about its usefulness.
Sometimes we have to know the Hindi of English and the English of Hindi. In this way, we have to Paste and Copy text again and again.
Best Way To Make Money from Facebook in 2023
In this, you can Translation on the same page without visiting the site without Google Translate. The first thing you need to do is install the Extension.
Then `you have to Click on the Extension and go to the Extension option. Now you have to select and save the Option between Language Hindi and 3 options.
Now whenever you Text select any English in the Browser, you will see Translation in a Pop Up there.
If you don't like this Option, choose the first Option. This will give you a Small Google Translate Pop-Up before a Popup whenever you Text Select and you will see the Pop-Up of Translation by Clicking it.
21. Page Analytics by Google Extension
Do you want to see analytical data from a page on your website?
Then this tool helps you with this extension, you can easily view the exact Google Analytics report on that Page, and with it,
They also display page views of that particular page but must authenticate your Google Analytics account with this extension to demonstrate that you have to.
If you want to save a lot of the time that you wasted while checking a Page analytics report, you can officially use this free extension from Google Chrome Web Store.
22. SEO Minion Extension
The extension works for you if you are struggling to on-page SEO on your blog post.
SEO Minion is the Best free Chrome extension that allows you to check on-page SEO or broken links.
Check metadata, highlight all internal and external links, and have a unique feature of SERP preview that helps you see your metadata and title in the Google search engine.
Youtube SEO Tips: How To Do SEO For Youtube Video
Google search location simulator SEO minion has the last option that helps you find your exact ranking on Google and this last option saves you a ton of time that you wasted in finding your article in SERP.
This is the best chrome extension for SEO purposes.
If you are a blogger or SEO expert, definitely try it.
23. Easy Blog Commenting Extension
If you are a blogger who regularly blogs while commenting on another blog for SEO and networking purposes, this extension is very useful for you.
Easy Blog Commenting is a free Chrome extension by India's top blogger Harsh Agarwal. This extension helps you to comment fast and save a lot of your time.
This allows you to easily create multiple profiles and automatically fill in your name, email, and website while writing any comment based on the profile.
If you want to create a nofollow link with blog commenting, do try this extension to save time.
24. Betternet Extension
Privacy is an important concern. With many website hacks and data leaks, it is natural to be concerned about all personal data floating on the Internet.
One way to protect your information is to use VPN.
The Betternet works without registration. You can activate a proxy server and hide your IP address by touching a button.
This is now free best chrome extension VPN. Once activated, you can access all blocked websites without any hassle.
25. AdBlock Extension
No one on this planet is fond of those funny pop-up ads. Imagine opening a website and waiting for the content to load, but a large ad banner pops up, blocking most pages.
You spend a few seconds looking for the elusive Close button, and when you finally find and click it, you're taken to a brand new page about something you've never been interested in.
Well, Google has heard your prayers, which is why you have the AdBlock extension for your Chrome browser. With AdBlock, you can say goodbye to all kinds of annoying ads.
Millions of users have installed the AdBlock extension, and you can assume how it has dramatically improved their browsing experiences.
Conclusion
As we know, in today's post we have learned a lot of things about Google Chrome Extension like What is Chrome Extension, How to install Chrome Extensions, and also know about Best Google chrome extensions for bloggers.
If you like our article today Best Top 25 Useful Google Chrome Extensions for Bloggers, you must share it with your friends and on social media so that they can also take advantage of this Informative information.